Kim McLean's Princess Feathers Quilt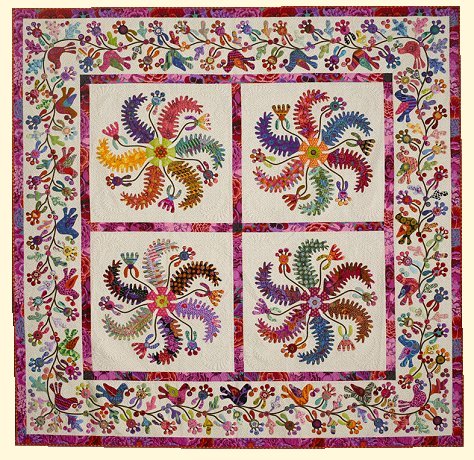 Click HERE to open a new Window with a super enlargement.
Click on the enlargement to magnify it to full size
Kim is an award winning quiltmaker from Australia who features imaginative use of Kaffe's fabrics in her quilts. We have been huge fans of her work for sometime. and are so pleased that Glorious Color is able introduce another of Kim's glorious applique patterns, to you.
The Pattern: The pattern for the entire quilt is available in a single package. It is printed in 1:1 scale. There is no need to enlarge the pattern.
We have appliqué needles and silk thread in a wide range of colors are available HERE.







Princess Feathers Starter Fabric Pack

The finished quilt is appoximately 94" x 94".

This fabric pack contains more than 15 yards of fabric. Most of the fabrics in the original are no longer available as this quilt was made many years ago. We have put together a good range of similar fabrics in this starter pack. When possible we have included the original fabrics. It is likely that you will not have enough fabric in the pack to do all the applique pieces if you do a lot of "fussy cutting". Add fabrics from your stash to make the quilt unique to you.

The fabric pack does not include the pattern or the background fabric.

$192.00







Princess Feathers Pattern

The pattern for the entire 94" x 94" quilt is available in a single package. It is printed 1:1 scale so there is no need to enlarge the pattern.

$30.00