Kim McLean's The Village Quilt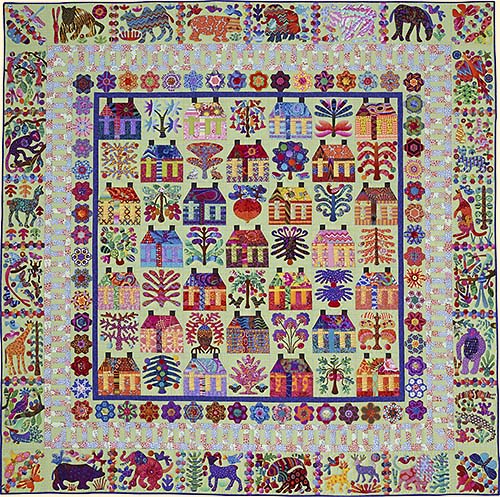 Click HERE to open a new window with an enlargement.
92' x 92"
The Starter Fabric Pack: A "starter" fabric pack is available.
The Background Fabrics: The background in the original is Spot in Apple. The amount needed for the background is 7 1/2yds.
We have appliqué needles available HERE and silk thread in a wide range of colors are available HERE. Half inch and three quarter hexagon paper pieces are available at the bottom of this page.






The Village Applique Pattern

Finished size 92" x 92"

$30.00







Half Inch Paper Hexagons

Packet of one hundred and twentyfive 1/2 inch wide paper hexagons. These heavy paper pieces are ideal for making the hexagons for Kim McLean's "The Village" Quilt.

$4.50







Three Quarter Inch Paper Hexagons

Packet of one hundred and twentyfive 3/4 inch wide paper hexagons. These heavy paper pieces are ideal for making the hexagons for Kim McLean's "The Village" Quilt.

$4.50







The Village Applique Starter Fabric Pack

This fabric pack contains over 14 yards of fabric chosen to help get you started on Kim's "The Village" applique quilt. It does not include the fabric for the background, the fence border, or the fussy cut hexagons.

$179.00