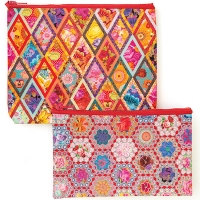 Kaffe Fassett and Kim McLean Eco Pouch Set
- Set of two zip-top pouches: large 9.5in x 7in pouch features the Bordered Diamonds quilt by Kaffe Fassett and the small 8.5in x 5in pouch features the Glorious Garden quilt by Kim McLean

- Durable, waterproof material is 100% recycled from plastic water bottles

Regular Price: $12.25 Sale Price: $10.00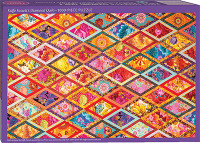 Kaffe Fassett Diamond Quilt Puzzle
Another puzzle featuring Kaffe Fassett Collective fabrics is available here.
Put it all together!
Enjoy a fun and creative 1,000-piece jigsaw puzzle featuring the gorgeous Diamond Quilt from Kaffe Fassett. This colorful and detailed statement piece is perfect for quilters, puzzle lovers, and anyone looking to challenge themselves. Take a break from a difficult project or clear your mind with 1,000 pieces of quilting-themed relaxation.
Challenge yourself to a visually stunning puzzle experience with 1,000 unique pieces
Surprise the crafters, puzzle lovers, and quilting enthusiasts in your life with an exciting gift
Piece world-renowned artist Kaffe Fassett's famous and colorful Diamond Quilt masterpiece
Finished Puzzle: 29.5" x 19.5"

1000 pieces

Regular Price: $19.95 Sale Price: $15.00

Kaffe Fassett Fabulous Florals Puzzle

Put it all together!



Enjoy a fun and creative 1,000-piece jigsaw puzzle featuring the gorgeous

Kim's Glorious Garden

quilt from Kim McLean using Kaffe Fassett Collective's fabrics. This colorful and detailed statement piece is perfect for quilters, puzzle lovers, and anyone looking to challenge themselves. Take a break from a difficult project or clear your mind with 1,000 pieces of quilting-themed relaxation.

Challenge yourself to a visually stunning puzzle experience with 1,000 unique pieces and surprise the crafters, puzzle lovers, and quilting enthusiasts in your life with an exciting gift!



Finished Puzzle: 29.5" x 19.7"
1000 pieces



Regular Price: $19.95 Sale Price: $15.00